INJECTION
With you from the original idea through to the end product
CID Plastiques is a serious and recognized partner in the production of injected plastic parts.
Equipped with high performance material for injection molding most thermoplastic polymers.
Appearance parts or technical parts, overmolding, installation of inserts or assembly, from small to large series, our team will meet your needs and support you in your project.
We are present in many sectors such as toys, paramedics, research, electronics, leisure and various industrial sectors.
Our watchwords: quality, competitiveness and responsiveness.
• Machine park from 25T to 400T for parts
ranging from 0.1 grams up to 1.5kg •
CID INJECTION works in many areas: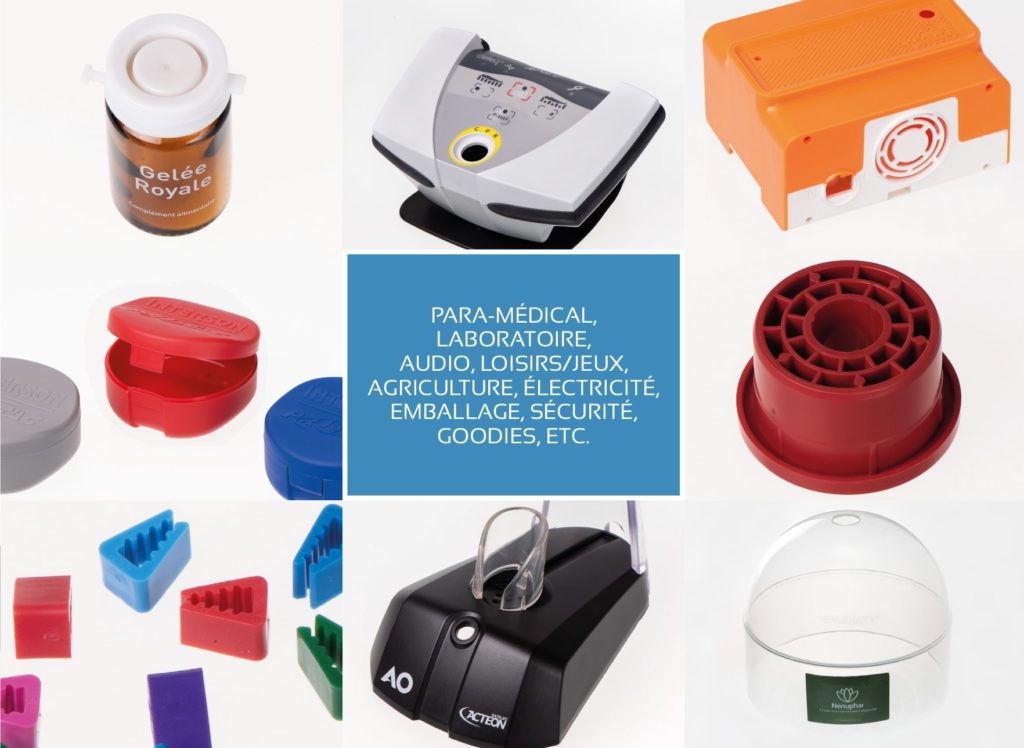 OUR EXPERTISE :
Injection of rigid materials: ABS, PC, LDPE, HDPE, PP, PMMA, POM, PA6, PA66, SAN, PVC, PS, PSU
Injection of flexible materials : PVC Souple, SEBS, EPDM, NBR, TPU, TPV, TPE
Injection of loaded materials : PP Fiberglass, Barium Sulfate, PA6 Fiberglass
Injection of recycled materials: ABS, PP, PE, PET
Injection of bio-based materials : PE, PET, PA, TPE, TPU
Injection of biodegradable materials : PLA, PHA, PET, TPE
Overmolding of metal inserts or plastic parts
Ultrasonic welding
Assembly / assembly at the press outlet
Customized packaging
OUR ADDITIONAL SERVICES :
Prototyping (vacuum casting, laser sintering of powders, stereolithography, machining)
En savoir +
Support for the choice of subjects
Support for the design of parts for manufacturing by injection molding
Pad printing, serigraphy, hot stamping
Manufacture of injection molds (from France, Portugal or Asia)
A dedicated team and efficient machines
By your side from the start of your project:

• a dynamic design office that supports you through industrialization.
• the realization of prototypes in 3D printing.
• a high-performance machine park , ranging from 25 T to 400 T allowing the production of parts from 0.5 gram to 1.5 kilos.
• robots and men qualified for handling "appearance" parts.
• extensive experience in processing most materials. virgin, but also bio-based, biodegradable, compostable and recycled.
• a quality service in perpetual quest for improvement.
• an efficient maintenance service for the upkeep of your molds.
• a storage area of 4000 m² allowing you to temporarily store your products.